You can stop holding your breath for suspense reasons and start holding for your dive deep into the waters of Pandora; Avatar: The Way of Water is a stunning return to old-school blockbuster filmmaking from the master of it, James Cameron. This remarkable film is more than the sum of the parts many point out as being stolen and should be praised for its future thinking mindset in both cinema and society even if the public isn't ready for it.
As David Sims of the Atlantic pointed out in his article on the original Avatar's effects on modern blockbusters, the 13 years since the original film have been stuffed, containing 28/30 of the MCU hits as well as the entirety of both the Despicable Me trilogy (and two Minions spin-offs) and the DCEU. Our ideas about what we expect from a blockbuster have changed significantly, dominated by IP and character-driven thoughts rather than spectacular visuals. As swarms of, to use a modern term, "haters", have been quick to point out, the cultural memory of 2009's Avatar didn't seem to include character names for the common person.
This idea of a blockbuster only being iconic due to its characters is a new-fashioned one, forged out of a box of comic book scraps in the same cave out of which Iron Man was born. Characters have been packaged as iconography. The same kind of people that don't remember Neytiri's name is the kind that thinks a superhero film "not being comic accurate" is good film criticism. Whether Spider-Man has biological or mechanical web-shooters means more to their determination of a film's quality than anything about its direction, script, or even special effects.
In a way (of water), this is Avatar: The Way of Water's greatest strength. When we revisit Jake Sully decades after the events of the first film, we are reintroduced to his world with fresh eyes. Things have changed without our having to read hundreds of words about if that's a good or a bad thing before stepping into the theater. The Sullies now have children, two biological teenage boys, one much younger girl, and an adopted teenage girl whose origin is a small part of the thrust of the film. While going about their forest-centered Na'vi lives with sprinkles of human traditions involved (including an intentionally silly moment in which the group takes a family photo). When a villain from their past tries to hunt them down, the group must flee this life and seek refuge from a water tribe of Na'vi, whose ways they know very little about.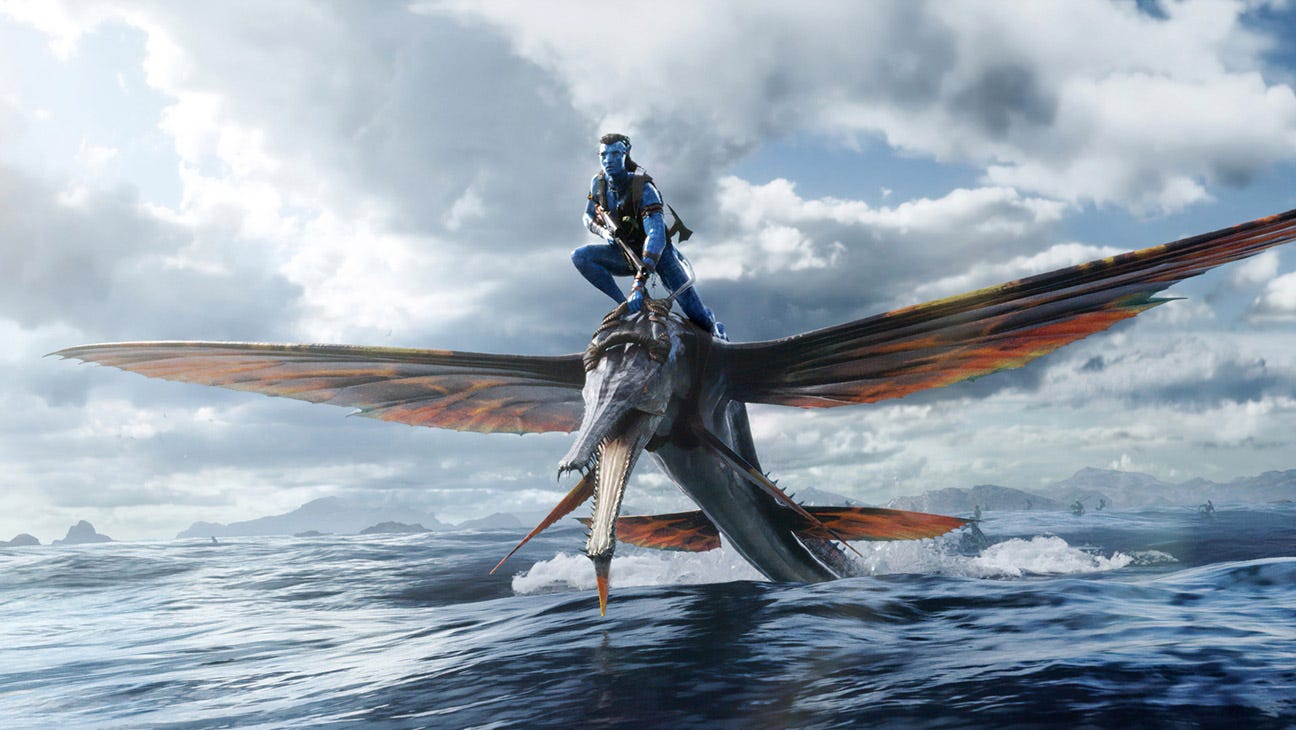 You'll notice the lack of human characters. Even more than the 2009 movie, The Way of Water is an almost entirely motion-capture animated film (and should be proud of that). Its special effects supervisors are, deservedly, billed above the cast in the end credits, because just about everything you see is a special effect. The story is well told through this medium. There aren't a lot of "avatars" in this movie, but the title still fits; the photorealistic world of Pandora is an avatar of its own for our planet, and its inhabitants are our people on the edge of being colonized. Saving the Earth and stifling our need to consume, digest, and defecate other cultures and environments is a world-wide message that needs a blockbuster format just to be seen.
To deflect arguments against these movies' "cliched" storytelling and nameless characters it's worth highlighting how true to life this family unit is. Coming from a big family myself, I found myself able to relate to any part of their dynamic. And the 70-year-old Sigourney Weaver deserves an Oscar nomination for her acting as Kiri, a teenage Na'vi. Her powerful presence mixed with fear is even more suited to the role than her much younger counterparts playing her siblings, and the fact she can express such vulnerable awkwardness mixed with arrogant narcissism that's typical of that age through motion capture tech is as marvelous a special effect as the movie itself.
Look, this isn't going to seem like a revolutionary take. Avatar is one of the easiest to attack goliaths in the eyes of this generation, and whether by criticizing its originality, politics, or content, they are all eager to claim the David role. But as with every other movie, removing yourself from the populist ideas of what a movie should be, and instead looking at what it truly is from its first shot to end credits will be a more profitable, truthful, and enjoyable experience than anything you'll find online. Go see this movie. Find the biggest screen nearby with a high frame rate 3D experience. You'll be treated to an immersive experience like no other, one that will thrill you, tickle you, and play you like a musical instrument that inhales and exhales when the musician commands. There's just nothing quite like the amazing way this story builds so slowly, so slightly, so that you feel as strongly about the character's defense of their home as you do.
For many of you, this will be your first experience with high frame rates in cinema and, like me, this will be your first 3D movie in years. Perhaps that, like the movie's runtime, seems daunting to you. But from experience with that same emotion, I can attest; by the end you will wish you had even a few more moments left to live in the world of Pandora, an emotion we must carry with us into our real world.